monthly, quarterly, and annual intervals.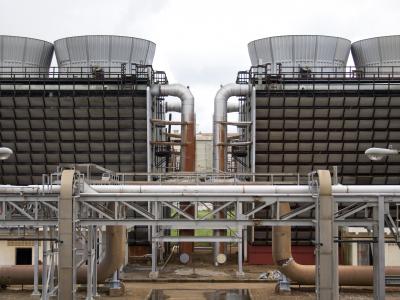 While Earthwise Environmental manages the performance of the water in the pipes, we also recommend​ a preventative maintenance plan for your cooling tower regardless of age, model, or manufacturer. Cooling tower preventative maintenance programs incorporate continuous monitoring to maintain normal operating conditions and early identification of problematic areas. While each manufacturer has specific recommendations on preventative maintenance programs in general, good housekeeping can be categorized into monthly, quarterly, and annual intervals.
Monthly Inspections
- Clean cold water basin strainers
- Bearings
- Check water level in basin and adjust float as needed
- Check distribution system for debris
- Check missing, broken, or plugged nozzles
- Checking and adjustment of belt tension
- Check fan screens for debris
- Check inlet louvers for debris or blockage
- Check motor for unusual noise
- Check fan assembly for scale buildup, vibration, or noise
- Vibration switches
- Gear reducers
- Oil Pump
- Couplings
Quarterly Procedures
- Cold water basin
- Drift eliminators
- Fans
- Bearings
- Basin Heaters
- Make-up Valve
- Cross flow towers
Semi-Annual Inspections
- Gear Reducers
- Sand Filters / Separators
Annual Inspections
- Vibration switches
- Adjustable Motor Bases
- Stainless Steel Towers
- Galvanized Towers
- Annual cooling tower cleanings
- Inspection of fill media for debris and conditions
Earthwise Environmental is happy to partner with your facilities managers or mechanical contractor on a preventative maintenance plan tailored to your system's processes which will cut repair costs and maximize the life of your cooling tower.