Pre-treatment & Water Purification of Cooling Towers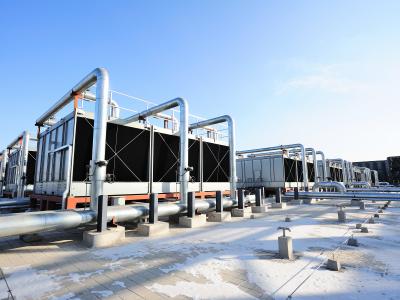 Incorporating preventative maintenance as part of your cooling tower management plan directly impacts your energy, water, and discharge costs.
Preventative maintenance includes pretreatment which prepares new or existing cooling towers returning to service.
Both new systems and systems that have been shut down for the off-season can contain:
Oil/grease films
Rusted areas
Dirt
Sand
How Water Pre-treatment Works
Prior to start-up, new systems use pretreatments containing a mixture of surfactants and chelating agents to remove mill scale, flat rust, dissolve oils, greases, and other organic material. While pretreatment is safe and improves initial metal passivation, each cooling tower will differ on specific pretreatments. Your water treatment company will follow the manufacturer's guidelines and run lab tests to make sure the correct treatment program is in place for your system.
Prior to returning a system online, existing systems can use pretreatments to dissolve iron oxide deposits, and inhibitors designed to remove precipitated hardness deposits. Systems returning online can contain:
Scale deposits
Corrosion
Fouling
Microbial contamination
The combination of hydrotesting/water flushing followed by the application of pretreatment chemicals provides the most effective complete system protection, including equipment that has been taken offline. Additionally, pretreatment of new systems should immediately follow construction. Once pretreatment has been performed on a new or existing system, an optimum treatment program with system monitoring and control methodology will maintain effective operation. Overall, cooling towers are operated under stress, and without proper pretreatment and monitoring, systems will accumulate scale deposits, corrosion, and microbial fouling.
Need Help with Pre-treatment?
Whether you own and operate your own systems or outsource the equipment maintenance to mechanical engineers, it is important to know what is involved in the maintenance of your equipment to keep costs down. A reliable water treatment company partners with you and your engineers to ensure that your equipment runs as efficiently as possible for its entire life. Earthwise provides Full Water Solutions that work - contact us  today and find out how you can reduce your water and energy costs and improve the life of your systems. 855-868-8809